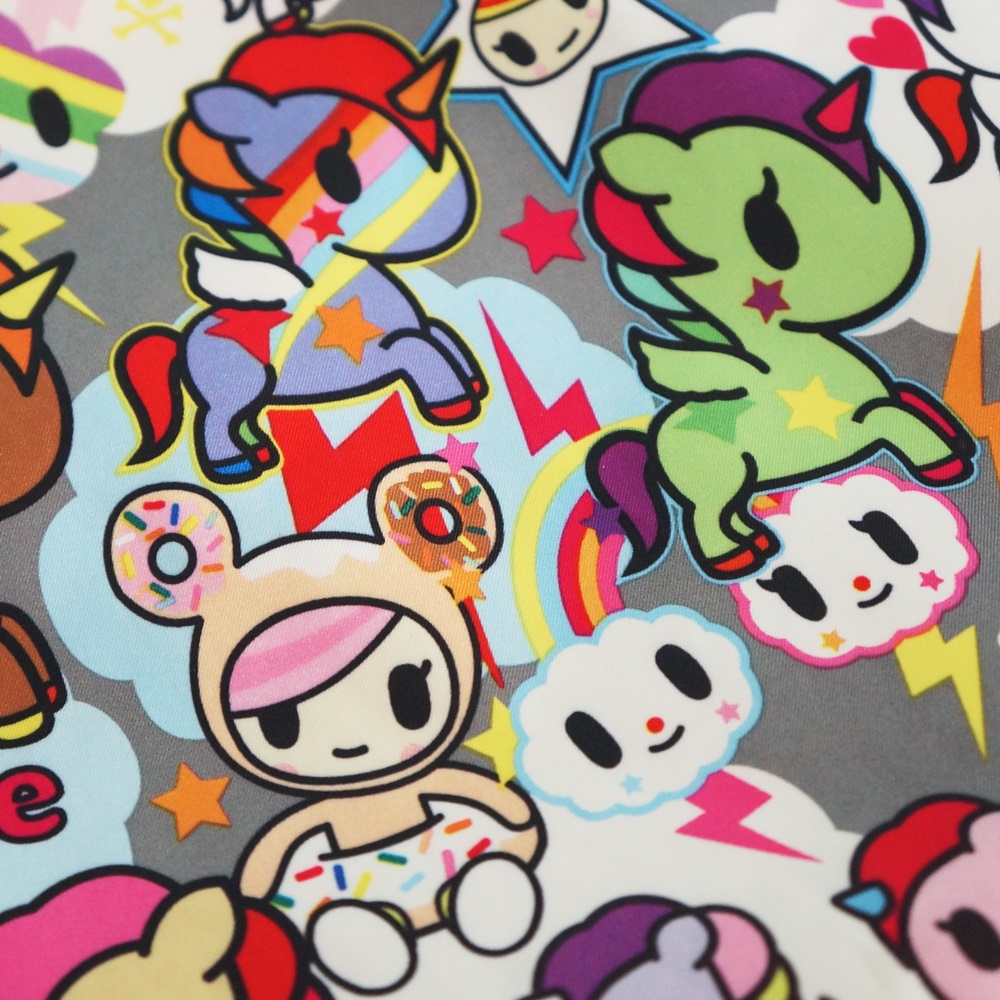 10 Sep

Ju-Ju-Be x tokidoki Better Be Diaper Bag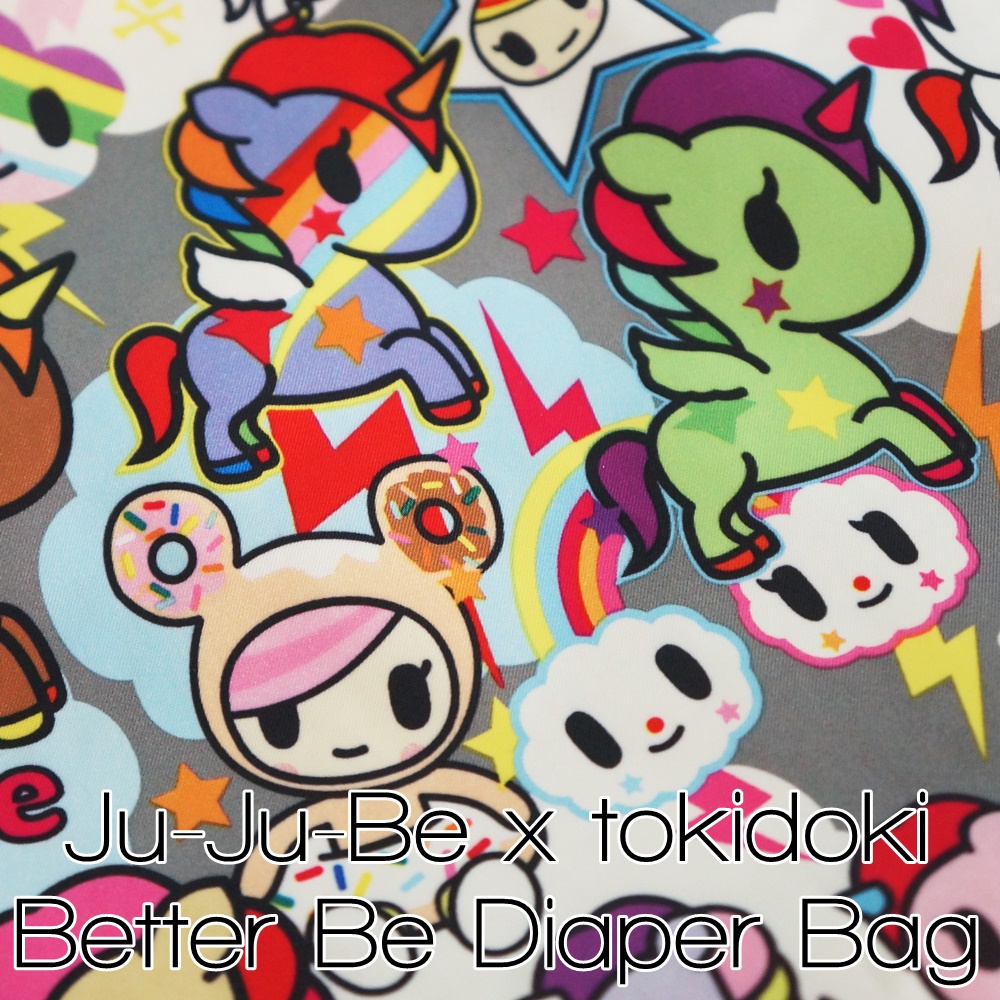 For the longest time I wanted to have a bag by tokidoki. Not one of the fake ones you see some people with here and there. tokidoki's designs are heavily influenced by Japanese pop culture. The bag, accessory and clothing patterns are really cute and colorful with a lot of funny mascots like cactus people and animals and similar.
The first time I saw something by tokidoki was while I was still at the university. I instantly fell in love with their designs, but even with working part-time I had no spare money to buy a bag which would cost € 100+. So I thought: If I ever work full-time, the first thing I'm going to buy would be a tokidoki bag. Well despite I was working full-time since November 2009 already, I never bought a bag somehow, which has mostly to do with the fact that the international webshop didn't ship to Austria (or the rest of Europe) and the European webshop Just had a really small amount of goods, and the design weren't as colorful as the other things by tokidoki.
On one day last year (I was pregnant at that time), while I was on my way to work in the first district of Vienna, I saw a woman with a stroller and a tokidoki diaper bag by chance. I knew this would be perfect, so I had to get one for my baby (or me) as well! Later I was browsing the internet and found really cute diaper bags from a collaboration of tokidoki and Ju-Ju-Be. Ju-Ju-Be creates really high-quality and useful diaper bags and other accessories for stylish moms and babies. But tokidoki still wasn't shipping to Austria (they do now, but the shipping is exorbitantly high!), and neither did Ju-Ju-Be. I was really sad about that, but I tried to find a way to get my bag. I found some stores, but all were either located in the U.S. or some shady Chinese eBay sellers, which would not only mean high shipping costs, but also the risk of paying customs, and I didn't want to pay ~€ 200 for a $130 bag… And I also didn't want to buy a fake bag.
Then, some days later I found another online shop selling Ju-Ju-Be bags (among many other baby-related things): Laura's Little Boutique. Since this shop is located in Finland, there would be no custom fees (yay for EU!) and the best thing was: Free shipping over € 50 (I think it was € 75 last year, but I'm not sure anymore)!
I decided to get the Ju-Ju-Be x tokidoki Better Be model, which is similar to a messenger bag. I thought this way I might still use it even after I don't need a diaper bag for Flynn anymore. As for the design, I went with the Unikiki print. The design consists of many cute baby unicorns (with diapers and pacifiers – too cute for words!) and other tokidoki mascots. The color scheme is gray and violet, pretty neutral but not boring because of the colorful accents and not too girly of course because I already knew I'm going to have a boy.
I paid € 129.90 in total (my most expensive bag ever XD), and it arrived here really quick after ordering.
I just love everything about it: The print is so cute and the quality is great. I've been using this bag pretty much daily since Flynn's birth (which is going to be 14 months next week) and there's nothing damaged, nothing looking used. The only thing that happened is that the colors on the upper side of the strap began to fade slightly because it was exposed to the terrible sun constantly this summer. But if you don't look really closely you wouldn't notice it.
One great thing about it is, that you can put it in the washing machine, which I already did once some time ago. On this other hand, if it rains, the raindrops will just roll off the surface. It never happened that anything inside got wet, even with the worst rain (or little snow) here in Vienna.
Now let me show you all the little features:
In the front, there's a hidden pocket in the top flap, which I'm usually not using for anything. The flap closes with a small but pretty strong magnet, so no loud velcro or something like that, which might wake up your sleeping child. Now let's open the flap:
In the front, there's a what they call the "mommy pocket". You can open it with two zippers, which are made out of metal, so no cheap plastic zippers, which might come loose or break easily.
There's another small pocket for your smart phone (or in my case, my iPod), a clip for your keys (I just throw my key inside, attached to a PlayStation lanyard, which I received  as a present at Game City some years ago, so I can find it more quickly), and loops for lipsticks (o_O) and a pen. Inside is another mesh pocket, where I usually keep hair ties and pins, and another zipped pocket in the back for my passport and so on.
And my purse XD!
On the inside of the flap you have some place to put two photos in.
Of course I chose some cute Flynn photos. These are a little bit older from spring this year. By the way, take a look at the tokidoki design of the inner lining!
Now let's check the main compartment. There are many smaller mesh pockets to organize all your baby stuff like diapers, baby wipes, some creams, spare clothes, burp cloths, snacks, drinks, toys. And then there's even some space left for my beloved system camera for our photo sessions. It doesn't look that big, but there really is enough space for everything
Everything neatly organized, so you can find it at first glance!
On both sides, you can find two isolated bottle pockets to keep your drinks hot or cold. I never really used these, as I always keep the bottles inside of the bag. Sometimes I slide my mobile phone in to have quicker access to it.
Included in the whole set is also a changing pad in the same design, which you can conveniently store in the back of the bag.
It's not that big (especially now that Flynn is bigger at around 80 cm), but it often came in handy. And here you can see most of the print in its full glory.
Let's take a look at the strap. It has some special padded fabric underneath so that it doesn't slip off your shoulder and is comfortable to carry around.
The strap is adjustable in length. As you can see, all of these parts are made out of metal as well, and there's also a small crystal as decoration. In this picture, you can also see how the colors on the strap got a little bit discolored from the sun, after more than one year of use. It's not that much, but with that in mind I wouldn't recommend buying an all black bag. All the other colors look normal, though.
The strap can also be taken off and be exchanged with stroller clips, which you can buy additionally. I just let the bag hang from the stroller handle (like this), so I can always grab my bag, whenever I need it.
I just love my diaper bag. I already received many compliments by other moms and all the kids seem to love it, too XD.
In conclusion, I can only say that the bag is completely worth its money. I never had a bag that is so high in quality, from all the fabrics to the metal parts they used and the flawless workmanship. I'd definitely buy it again, and if I had the money I would even buy another design by Ju-Ju-Be x tokidoki, so I could always change it according to my mood :).