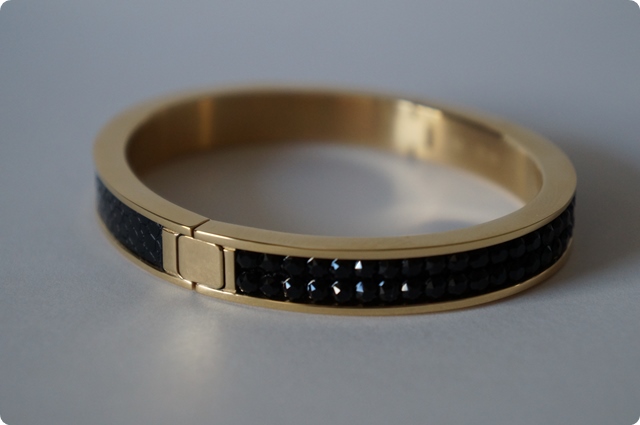 19 Feb

Black & Gold

Black mixed with gold is a very classic color combination, isn't it?

I used to hate yellow gold jewelry, I only had silver, rhodium or white-gold jewelry. But around two years ago I really started to like some pieces of yellow gold jewelry, too. I think that especially antique looking gold has it's own charm. It's nothing for every day, but if you're wearing something elegant or romantic I prefer it over silver jewelry.

So for this season I decided to get something simple in rhodium and on the other hand something elegant in black and gold from Swarovski: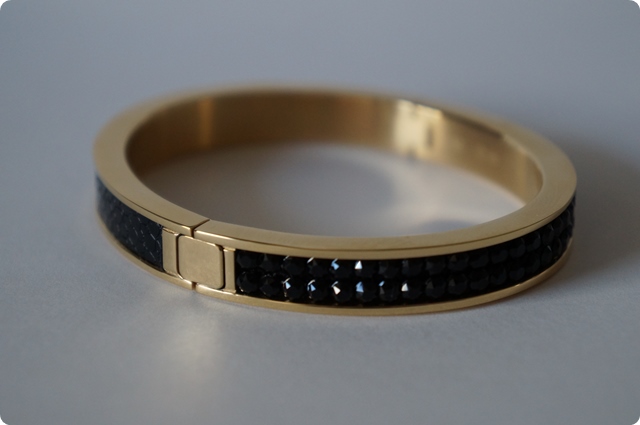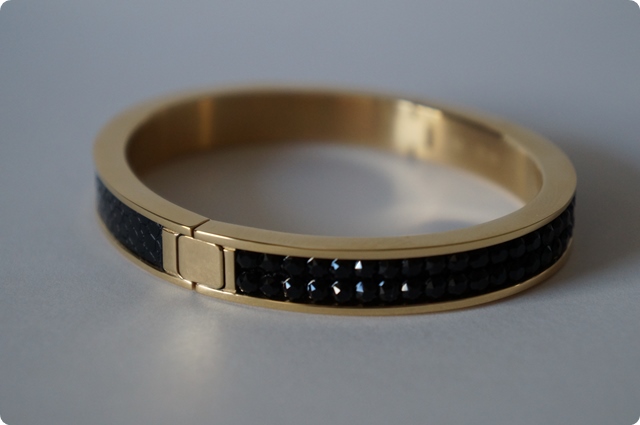 Intervalle Galuchat Pattern Bangle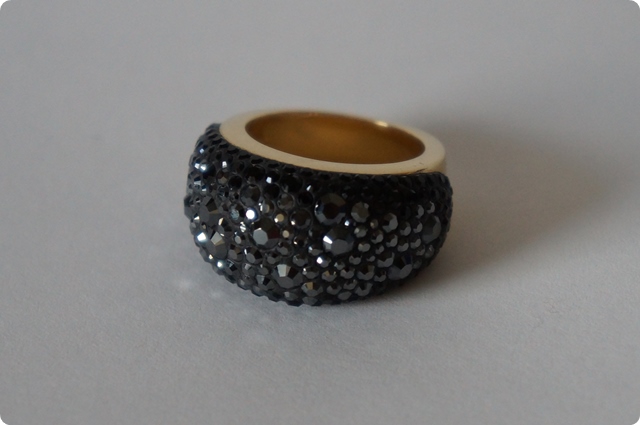 Mini Black and Gold Chic Ring
I already got interested in the new Intervalle bangle color design last season, but I hadn't that much other jewelry that might go with it. I also have the old large black and stainless steel version of the Intervalle bangle, so I thought getting both might be a waste. What I really like about the Intervalle bangles is their oval shape and the cool mix of leather with crystal mesh, it's elegant, but also cool.
Then last month I saw the new Mini Chic rings. The normal Chic rings are way too big for me, but the smaller version is so cute. It's the same as with the Nirvana and Nirvana Petite rings (I got the Nirvana Petite in Indicolite one year ago, but haven't really worn it much, too afraid of damaging it ;_;), bigger is not always better, at least with smaller hands. First I thought about getting the Mini Chic in white, but the Black and Gold version is so much cooler! The ring and the bangle are both gold-plated. The ring has beautiful crystals in Jet and Jet Hematite, that have been applied with the famous Swarovski Pointiage technique, with which it is possible to put the crystals right next to each other in a special high tech ceramic.
I know of at least three other colleagues who also got this ring *lol*. And there's me who normally always wants to be different >.<…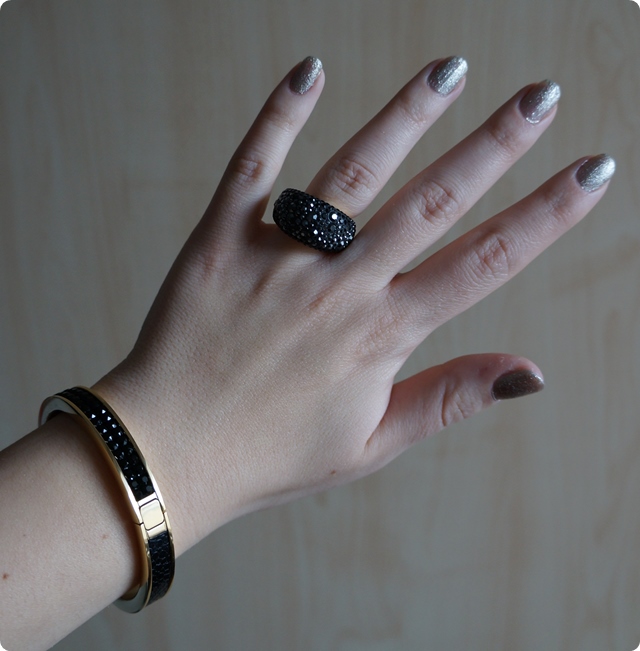 Aren't they pretty? Here you can see them worn together and with essie's beyond cozy nailpolish.I'm still in the process of losing some weight, that I gained because of the medicine I had to take, but soon I'll be able to wear it on the middle finger again (it's already really loose on the ring finger…).
I was also veeeeeryyy lucky to find a perfect matching dress from Vero Moda with lots and lots of golden sequins at Peek & Cloppenburg. While it's still at €59.95 on Vero Moda's Website, they sold it off for only €19.95 at Peek & Cloppenburg, so crazy! They also had the black one, but i thought with the new jewelry I got, gold would be a better choice.
Normally I'm not a big fan of Peek and Cloppenburg, but sometimes you can get really good deals. They always hide the best pieces in narrow corners, but that won't stop me from bargain hunting har har!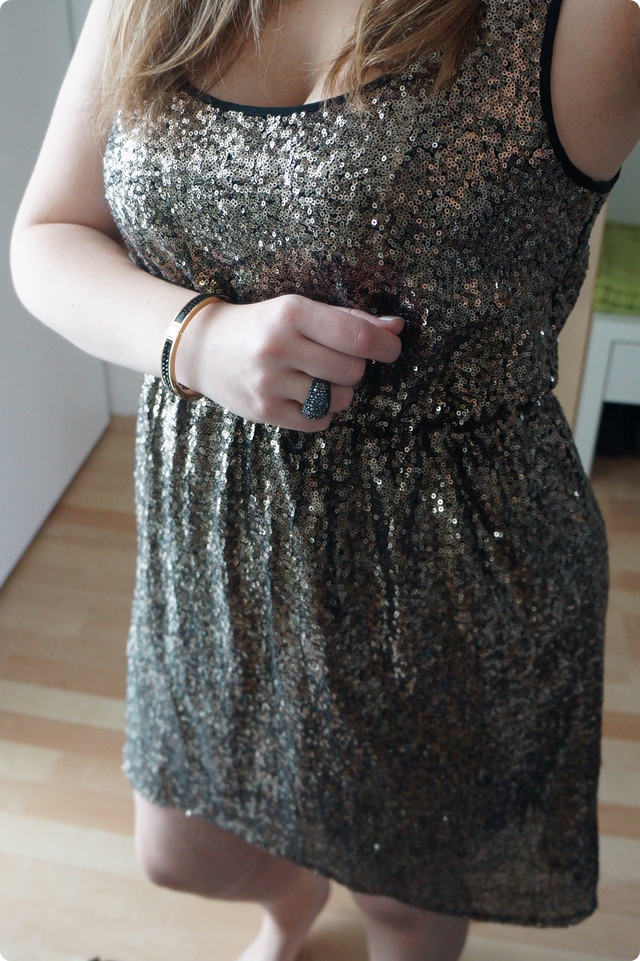 Matching the dress with my new Swarovski jewelry!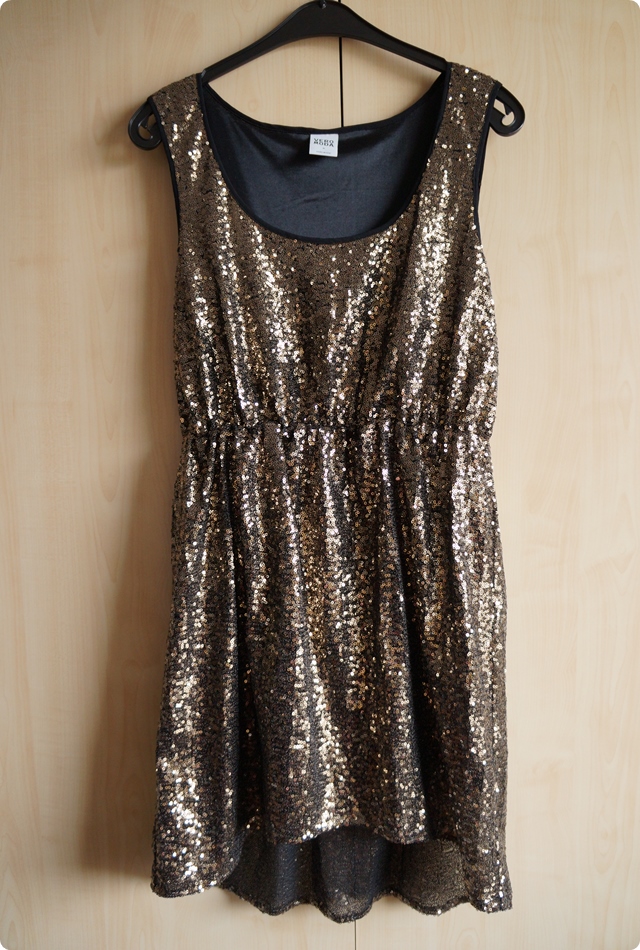 Pretty sparkly dress!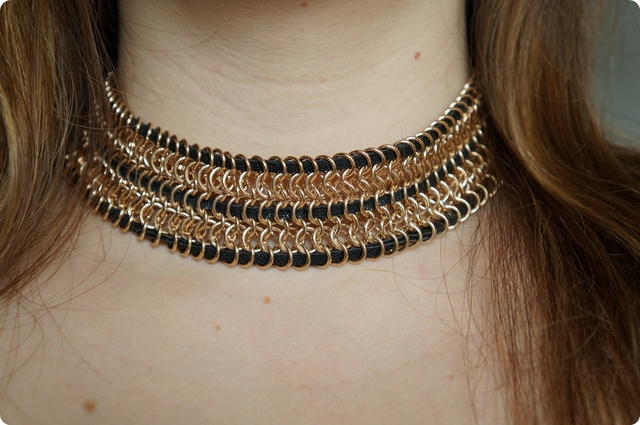 Then I also found a really cool matching necklace at Mango, which was also on sale for only €5.99 instead of €19.99. It's no real gold (of course not with this price!), but I really like the design with the ribbons inside of that metal mesh.
I'm not sure if I could wear it all together at once, it might be too much. But the great thing about fashion is that you can mix and match everything as much as you like it to be. I'm still looking for some nice black and gold hanging earrings,but couldn't find any that I really liked.