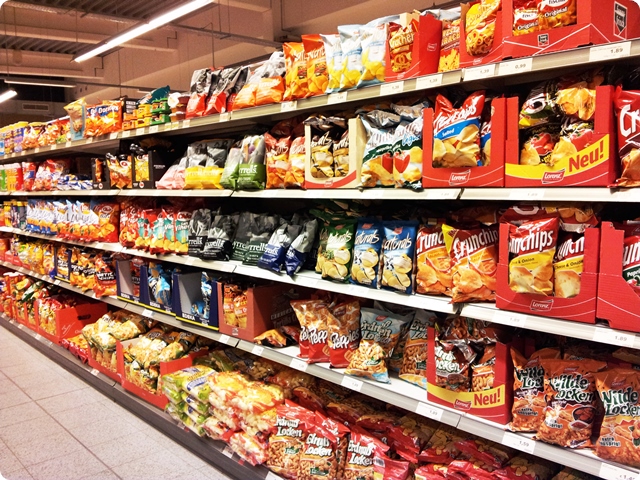 14 Jan

Crazy Food

You don't know how I feel every time I am back in Germany and go shopping in a normal supermarket. There is a so much bigger selection of different food, drinks and snacks in comparison to what you can get in Austria in even the biggest supermarkets here in Vienna. There are so many funny, delicious, unordinary and crazy things. If you live there, it feels completely normal, but for me, living in Austria for over 9 now, it's like paradise. Funny things is that you can get almost all the Austrian, a lot of Swiss (except for Risoletto of course, which you can only get in Switzerland as it seems) and other spscialties as well. It's so much that I can't even try out everything I want for the time I'm staying there.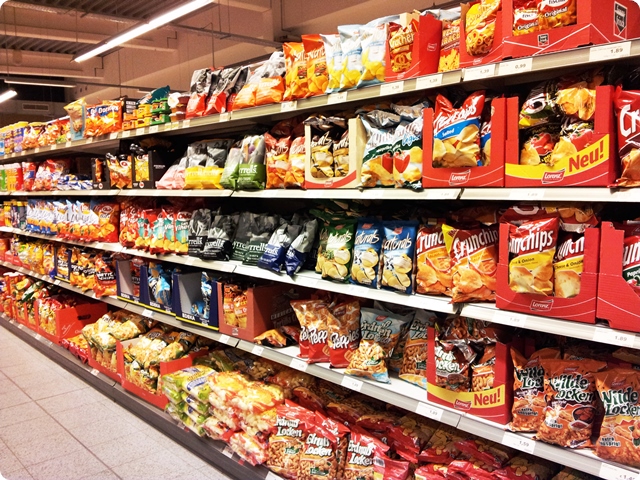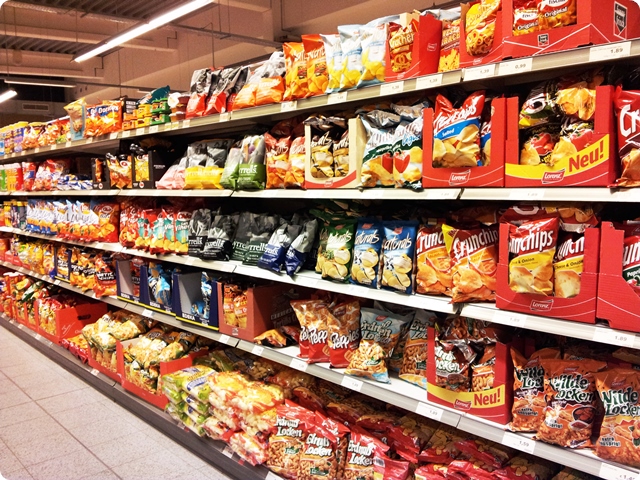 These are not even all the salty snacks! You can get so many different tastes, they also have Tyrrell's and Lays, which I really love. This time we tried out Tyrrell's Worchestershire Sauce & Sundried Tomato and Honey Roast Ham & Cranberry and also had some normal salted Lays. I really wondered how cryanberries would taste on chips, but they were actually pretty good. Lays are always evry good, if not the best normal chips. WE could buy them as a limited offer at our local supermarket, but they never got them again. You can get Tyrrell's here from time to time, but they only some of the tastes they have…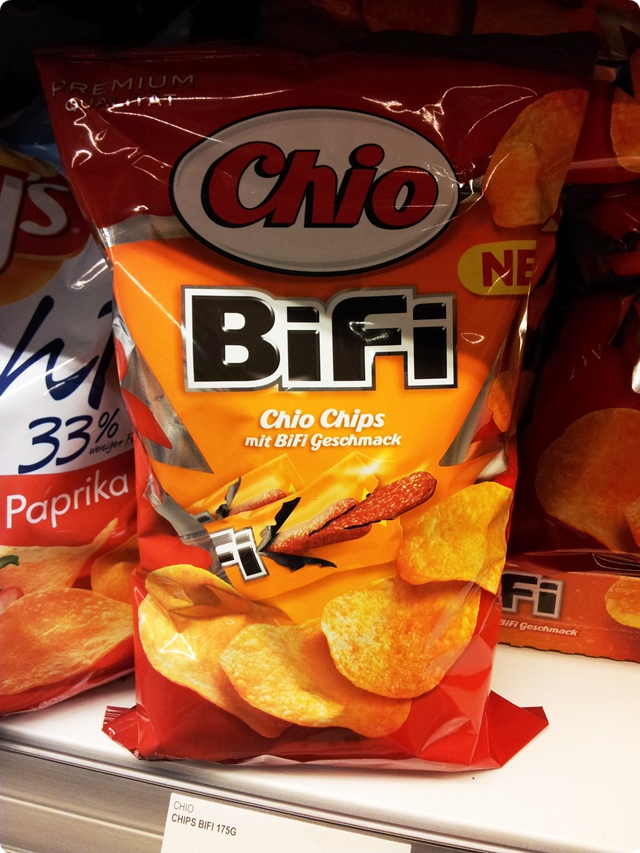 New Chio Chips with BiFi sausage flavour: They weren't that bad, I could eat them one evening, but on the second I couldn't smell, yet eat them anymore. I wouldn't buy them again, if I have the choice of so many other chips.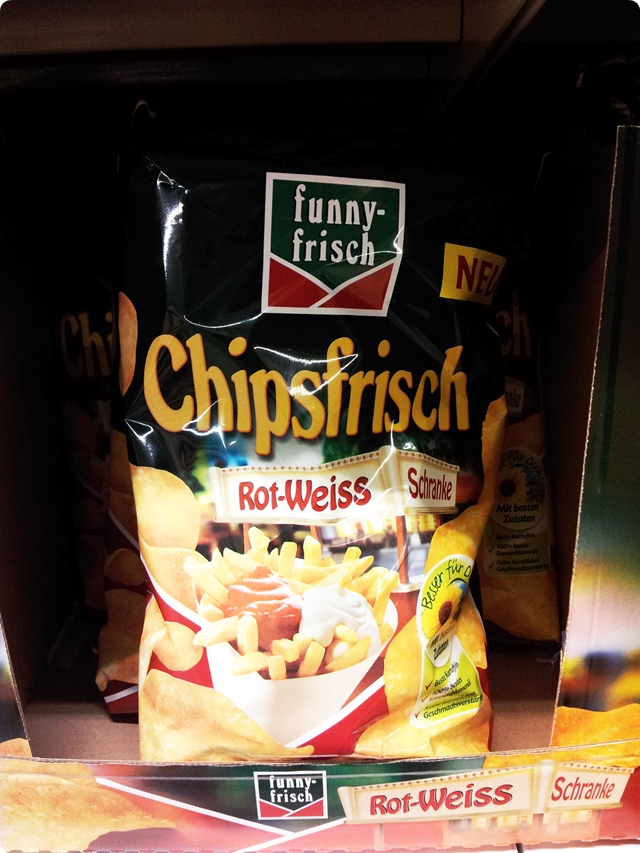 Chipsfrisch Rot-Weiss Schranke (french fries with ketchup and mayo): They are pretty good, like a mixture of ketchup and sour cream chips.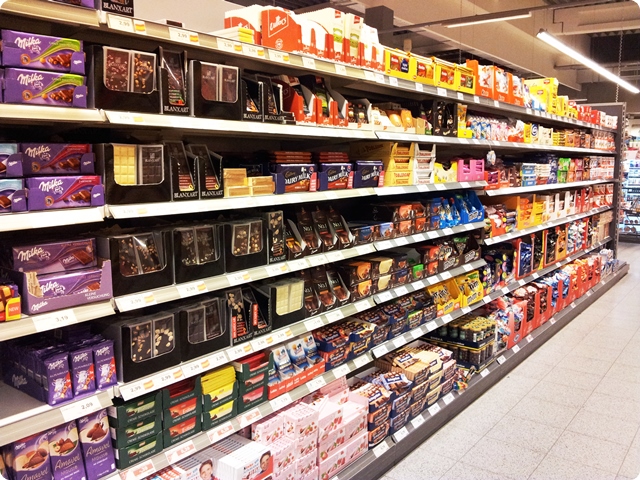 So many different chocolates!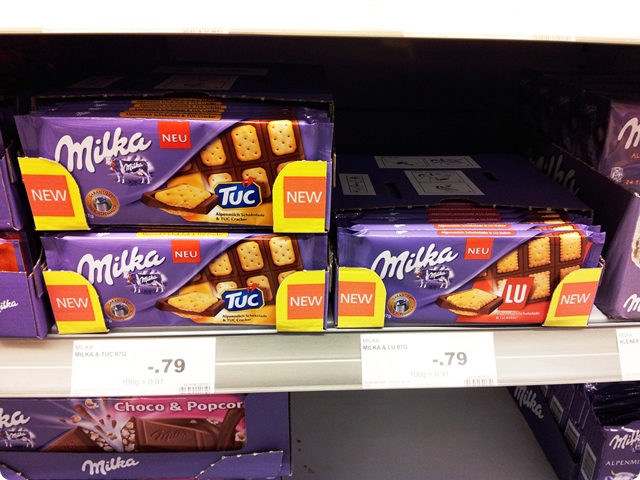 Milka milk chocolate with TUC crackers… I'm not really sure what I should think of this…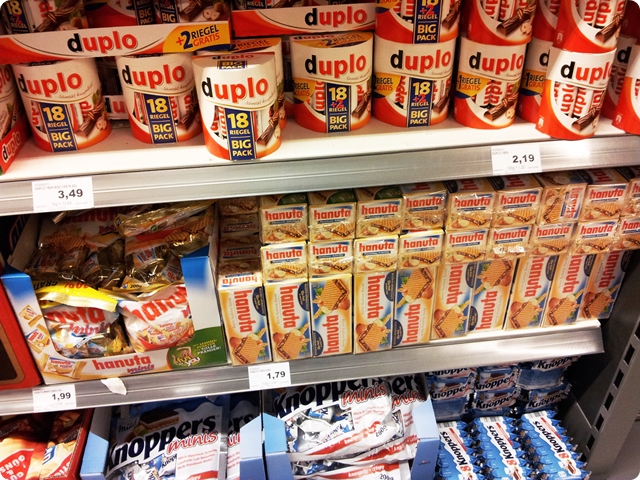 Hmm, Hanuta. I'm not exactly sure, why you can't get them in Austria, maybe it's because of Manner wants to sell all their wafer products here, but I really miss them.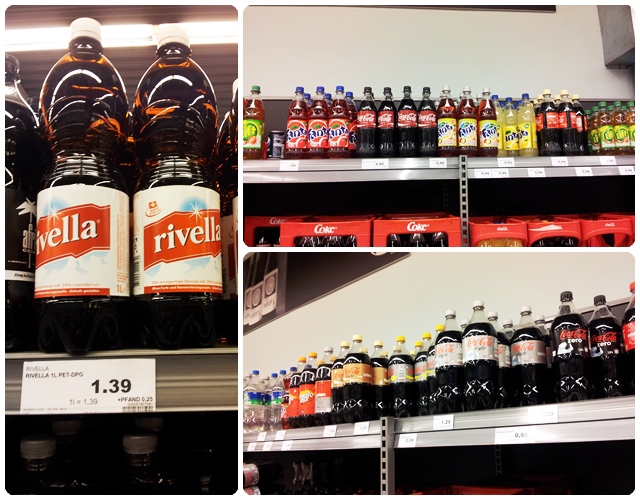 And so many cool softdrinks like Vanilla Coke, Cherry Coke, a wide range of Fanta flavours and even Switzerlands famous soft drink specialty rivella! I first tried it out two years ago, while I was in Switzerland. Eveyrone there was wondering why we never heard of rivella yet. The taste it really unique, maybe you can describe it best as a mix between Almdudler and Calpico/Calpis. Maybe it's best to try it our for yourself!
There are more things you can't get here like Grünkohl (green kale) and much, much more. And the best thing is: Everything is so much cheaper than in Austria. It really doesn't seem to be fair, because the difference in the VAT is only 1%, but some things really cost twice as much here ;_;…