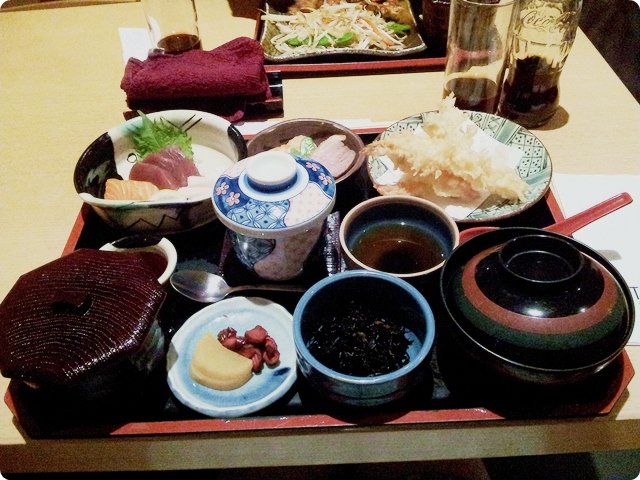 14 Dec

Tenmaya – the japanese food heaven

So last week I had my 30th birthday. To celebrate this we wanted to go out for dinner in the evening, and what better place could you celebrate your birthday at than at a japanese restaurant. We decided to visit Tenmaya again, a very good, if not the best japanese restaurant in Vienna, no 5 minutes away from my workplace in the inner city. We made an reservation one day before through the online reservation form, because more than often you can't get a seat if you hadn't reserved.

They offer a lot of differnt things like teppanyaki, soba and udon dishes, sushi and even Wagyu (Kobe-style beef) Steaks, which Tom had for his 30th birthday. So you can find a lot of things to choose from in any price category, but the prices are a little more on the upper hand, but you'll always get perfect quality for what you pay for. And you can also find a lot of things that your normal "asian" restarant doesn't offer. Here you'll get real japanese food. And you realize that this is the real food because you'll mostly only see japanese people there – tourists and also a lot of local Japanese.
So for this time Tom started with yakitori and after that we both had the fried yams-potatoes (小芋唐揚げ – koimo karaage). We would have never tried this out if we hadn't won a coupon for them in last years birthday raffle. We tried them and wow – they were delicious! So we both had to get them again this time, and they really were a highlight. How can something simple taste so good? They were very hot and we nearlly burnt our mouths, but we couldn't stop or resist eating them at once. They come with a small package of salt and sesame seeds to dip them in. You should really try them out, if you can!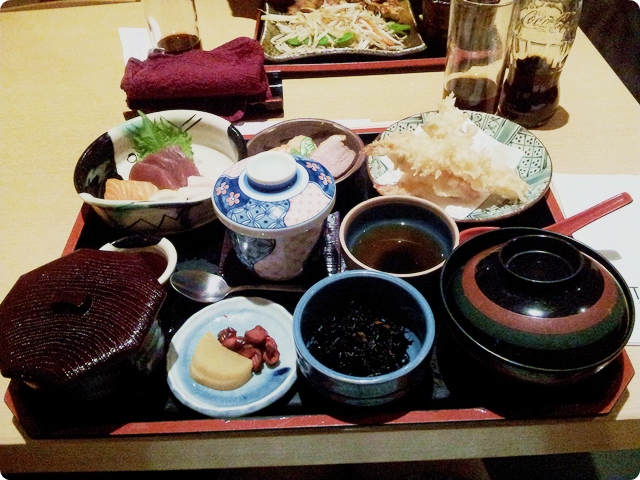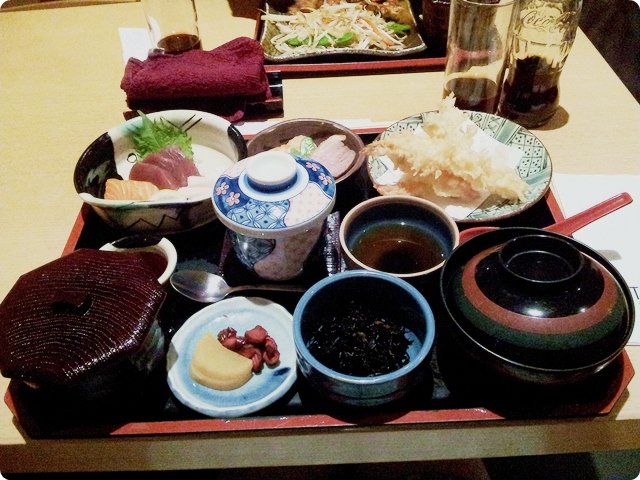 So for the main dish I decided to get the house set (天満屋御膳 – Tenmaya Gozen), which consists of a lot of different things like tempura, sashimi, rice, miso soup, vegetables and more. It really is a lot, but I was very hungry and it was everything so delicious and perfect that I had no problems in finishing the whole set. Tom had Tori Teriyaki (鳥照り焼き), whcih you can see in the background of the photo and it was very, very good as well. It really is no camparison in what other restaurants give you as tori teriyaki.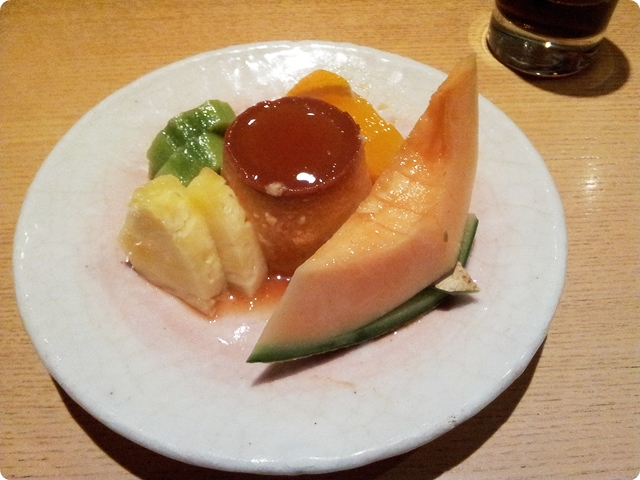 As for the dessert we both chose the special caramel pudding with fruits like always. It's really perfect and we both love it. The best thing about it is, that you can even dip the fruits in the caramel sauce.
After we came home again that evening my whole family called me and I could talk to them again. I'm so happy to see them all again soon!
All in all it was a very nice day with a great evening. So if you ever visit Vienna, you definitely should visit Tenmaya! I can only recommend it for everyone, even if you don't like sushi. Japanese food is so much more than that! It's original in taste and ingredients and even so healthy!